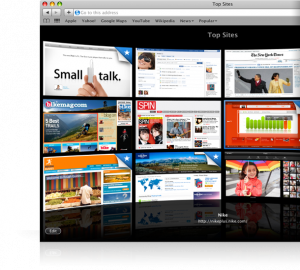 Apple hat am heutigen Montag Abend endlich die finale Version ihres Safari Browsers in der Version 4.0 freigegeben. Der Browser besticht vor allem durch seine unglaubliche Geschwindigkeit und die robuste Stabilität. Es werden auch neuste WebFeatures wie HTML 5.0 und Co unterstützt und der Browser besteht den ACID3 Test zu 100%
Ich kann nur jedem MacOS oder Windows User den Browser ans Herz legt der gerne auch mal was neues und vor allem sehr schnelles ausprobieren möchte.
Zum Download : Safari 4.0
You can follow any responses to this entry through the
RSS 2.0
feed. Both comments and pings are currently closed.