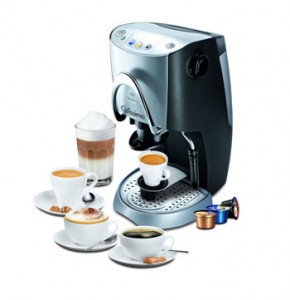 Nach einigen Monaten mit der Tassimo Kaffeemaschine musste ich mal wieder was neues probieren und bin nun bei Tchibo mit ihrem Cafissimo System gelandet.
Im Prinzip ist die Maschine der Tassimo sehr ähnlich bietet aber zusätzlich einen richtigen Milchaufschäumer 😉
Da ich eigentlich sehr zufrieden mit der Tassimo war bin ich nur zu Tchibo gewechselt weil es dort ein nettes "Abo-Angebot" gibt wo man die Maschine geschenkt dazu bekommt wenn man eine bestimmte Menge Kaffee pro Monat abnimmt.
Ich denke kommende Woche wird geliefert und dann kann ich mehr zur Maschine und meienn ersten Eindrücken schreiben.
You can follow any responses to this entry through the
RSS 2.0
feed. Both comments and pings are currently closed.