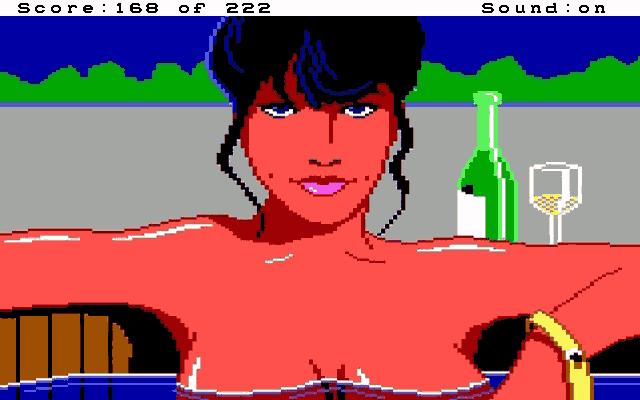 Diesmal hat sich Zockwork Orange das tolle Thema SEX ausgedacht und ich muss natürlich über LARRY schreiben. Klar ist das eigentlich zu offensichtlich und fällt wohl vielen als erstes ein aber ich liebe die Adventurereihe von Sierra (ehemals Sierra Online) über alles und schreibe auch gerne ein paar Zeilen darüber.
Larry sah ich das erste Mal vor verdammt vielen Jahren auf einem alten Commodore PC10 XT bei einer befreundeten Familie, wo mir der Junior damals Nachhilfe in Englisch gab. Weil ich mit 12 so PC-Geil war, durfte ich nach der Lernstunde immer eine kurze Zeit an den PC und dort Larry1 (Hercules Grafik in orange) spielen. Hatte was Sinnvolles da alles in Englisch war und man damals noch alle Befehle per Textparser eingeben musste. Jedenfalls war damit meine Liebe für Sierra spiele geweckt und ich blieb den Spielen viele Jahre treu (siehe auch meinen Artikel).
Von allen Larry Teilen hat es mir Teil3 "Passionate Patti in Pursuit of the Pulsating Pectorals" aus dem Jahre 1989 am meisten angetan. Obwohl es noch keine VGA Grafik hatte und mit EGA Farbpalette etwas farbarm war geviel mir die Optik sehr sehr gut und die Musik auf einem ROLAND MT32 Synthesizer ist der Wahnsinn (kein Wunder da der Larry Schöpfer Al Lowe selbst begeisterter Musiker ist) .
Okay nun einiges zu den Spielen selber:
Larry Laffer (so der komplette Name) ist ein Möchtegern Playboy, der von der großen Liebe träumt und alles anbaggert, was nicht schnell genug auf den Bäumen ist. Problem an der Sache ist leider das ihm 1. das nötige Aussehen und 2. der benötigte Charm dazu komplett abgehen 😉 Er landet also von einer Tragödie in der nächsten was für den Spieler höchst amüsant ist 😉
Abschließend noch eine Warnung: FINGER WEG VON DEN BEIDEN KONSOLEN TITELN AUS DEN LETZTEN JAHREN !
Beitrag zum Projekt 52 Games von Zockwork Orange: Thema 7 – Sex