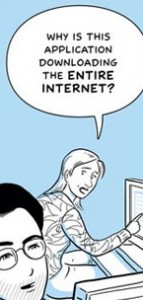 Google hat seine "Androhung" wahr gemacht und nun ist er da ! Der Google Chrome ist ein neuartiger Browser aus den Google Denkfabriken und besticht durch viele neue Ansätze.
Schaut Euch mal diesen mehr als gelungenen Comic an welchen Google extra zum Launch des (beta) Browsers ins Netz gestellt um die neuen Technologien zu erläutern.
Seit gestern ist nun, zumindestens die Windows-Variante, vom Chrome bei Google herunterladbar und MacOS und Linux werden bald folgen.
Ich werde Chrome die nächsten Tage ausgiebig in Bezug auf Multithreading und Stabilität testen und dann berichten ob wirklich alles besser funktioniert wie bei der Konkurrenz 😉
Einen kleinen Ausblick auf die Javascript-Performence des neuen Chrome möchte ich Euch nicht vorenthalten: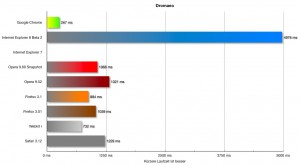 You can follow any responses to this entry through the
RSS 2.0
feed. Both comments and pings are currently closed.