Gestern am Sonntag den 19. Dezmeber kamen selbst im Rheinland und in unserer Gegend unglaubliche Mengen Schnee herunter. Es schneite quasi den ganzen Nachmittag und wir mussten Abends noch unsere Kleine bei Oma und Opa abholen. Da wir uns die Chance nicht entgehen lassen durften und Eva aus dem warmen Wohnzimmer durch das Fenster zuschauen konnte, bauten wir auf dem Balkon einen richtig tollen Schneemann für sie…..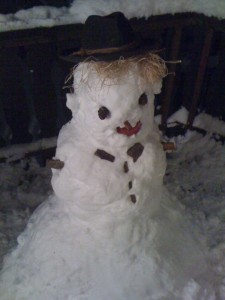 You can follow any responses to this entry through the
RSS 2.0
feed. Both comments and pings are currently closed.