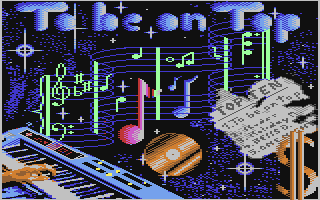 Endlich mal wieder ein Thema, wo ich nicht großartig nachdenken muss und mir sofort, was Passendes einfällt.
Einer meiner absoluten Lieblingstitel am Commodore64 war damals sicherlich "To Be On Top" von Chris Huelsbeck! Man war ein junger aufstrebender Teenager, der selber einen Hit in die Charts bringen wollte und komponierte im Spiel nen eigenen Song!
Hierzu musste man sich erst die Instrumente zusammensuchen um dann mit allerhand Geschicklichkeitsspielen "Noten" erspielen, welche dann zu verschiedenen Melodien führten. Am Ende hoffte man dann von Spiel als gut befunden zu werden und in die TOP10 zu kommen. Die jeweiligen TOP10 Listen konnte man jeweils auf Diskette abspeichern und somit gingen keine eigenen Kreationen verloren 😉
Beitrag zum Projekt 52 Games von Zockwork Orange: Thema 9 – Klang
You can follow any responses to this entry through the
RSS 2.0
feed. Both comments and pings are currently closed.